Published: Thursday, August 31, 2023 11:41 AM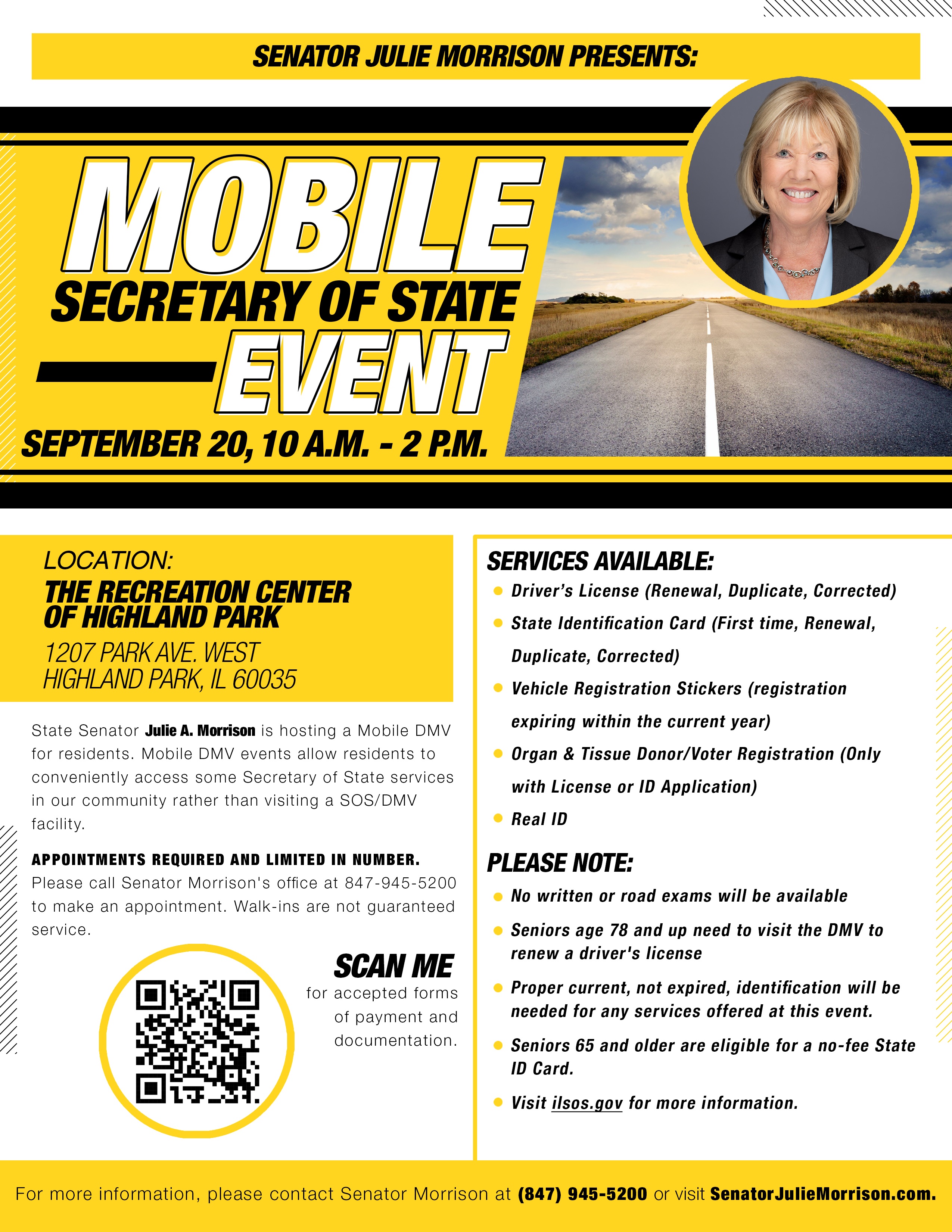 HIGHLAND PARK – State Senator Julie Morrison is hosting a mobile Secretary of State event in Highland Park, which will give area residents the opportunity to access some Secretary of State services at a location in the community, rather than visiting a Secretary of State facility.
"The Mobile Unit makes it easier for some to receive necessary services at a convenient location," said Morrison (D-Lake Forest). "Spots are very limited, so make an appointment today."
The event will be held on Wednesday, Sept. 20 20 from 10 a.m. – 2 p.m. at the Recreation Center of Highland Park, located at 1207 Park Ave. W. in Highland Park. Appointments are required and limited to 40 and must be made by calling Morrison's office at 847-945-5200. Walk-ins are not guaranteed service.
The ability to apply for a first-time Real ID at mobile events was recently added to the list of services available through the Mobile Unit. Other services that will be available are
Driver's Licenses (Renewal, Duplicate, Corrected)
State ID Cards (First Time, Renewal, Duplicate, Corrected) (no fee for ages 65 and older.)
Vehicle Registration Stickers (expiring within the current year)
Organ and Tissue Donor/Voter Registration with License or ID Application. (Not available as a standalone service)
Proper documentation must be provided in order for Mobile Unit staff to accept license and ID applications for processing. A chart of acceptable documents may be found at https://www.ilsos.gov/publications/pdf_publications/dsd_x173.pdf
Accepted forms of payment are Visa, Mastercard, AMEX, Discover Credit, and Debit cards. Personal check or money for the exact amount due for services dated on the date of the transaction.
No written or road exams will be administered. Drivers aged 78 and older will need to visit a Secretary of State facility to renew their driver's license.
Category: Latest News