Published: Wednesday, May 15, 2019 08:08 PM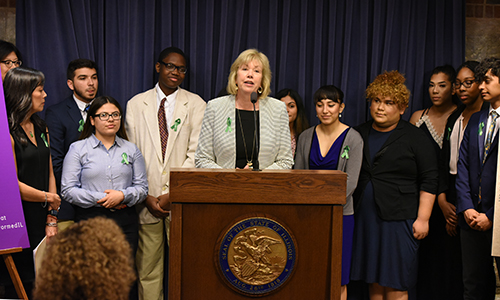 SPRINGFIELD – State Senator Julie Morrison (D-Deerfield) is raising awareness that traumatic experiences during childhood, including physical abuse, sexual assault or emotional neglect, can affect the development of a child and have a lifetime effect on the physical and mental health of a person's life.
In response to the growing public health concern, Morrison recently passed a resolution declaring May 15 as Trauma-Informed Awareness Day to highlight the importance of prevention and effective responses to dealing with trauma. Morrison joined with Attorney General Raoul, fellow colleagues and health advocates at a press conference in Springfield today to further highlight the issue.
"We are here today to stand together to confront this growing public health concern," Morrison said. "The data has proven the direct correlation between trauma and mental and physical health. We as policy makers and advocates need to continue working to ensure mental health care and trauma prevention are at the forefront of our discussions and the dedication of our state resources."
Recent studies have also indicated a correlation between traumatic experiences and increased risk for disease and negative health behaviors.
"The cycle of crime often begins with untreated trauma, so it is critical that we connect survivors – particularly children – with resources and support that will aid their physical and emotional recoveries," Attorney General Kwame Raoul said. "Adopting a trauma-informed approach is essential to helping survivors heal, and it is just as important to our long term goal of addressing violence in communities around Illinois."
"Every day youth are exposed to violence in their homes, schools and communities," said Illinois Department of Human Services Secretary Grace B. Hou. "It is imperative that we as a state make trauma-informed care a priority through our IDHS provider network and the services we provide directly to Illinois residents."
Morrison and Raoul were joined by youth from Mikva Challenge, a non-profit formed to help develop youth to be empowered and active citizens.
"By talking about trauma and teaching the youth, we are setting up future generations to not have to deal with these issues that we currently deal with and focus more on innovation and creating change in the world," said Jesus Santiago, a Mikva Youth Mental Health Ambassador of the Teen Health Council.
Category: Latest News