Published: Thursday, April 11, 2019 03:28 PM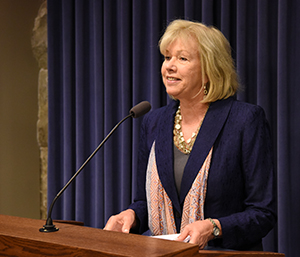 SPRINGFIELD – After years of working with advocates and the Department of Children and Family Services (DCFS), State Senator Julie Morrison (D-Deerfield) has passed a proposal reforming the confusing set of state rules governing reporting child abuse in Illinois.
"The first step in addressing potential child abuse is the reporting of that behavior," Morrison said. "If abuse is not being reported – or if individuals don't know the signs of abuse or who to even report to – the entire system is in jeopardy of not working, leaving abused children in dangerous situations."
Morrison's plan – contained in Senate Bill 1778 – reorganizes the list of individuals required to immediately report suspected child abuse or neglect to DCFS. Current state law is difficult to navigate, causing confusion on who is required to report abuse and how to go about reporting the abuse.
Senate Bill 1778 also requires most mandated reporters to complete training within three months of a new position and at least every three years thereafter. DCFS is required under the proposal to provide a free web-based training system for reporters.
"High-profile events recently highlight the enormous task in front of us to bring change to DCFS from the ground up," Morrison said. "This proposal represents a key part of bringing change to state law and an agency that has been failing for too long to protect Illinois children."
Senate Bill 1778 passed the Senate on a 43-8 vote on Thursday. Rep. Bob Morgan (D-Deerfield) is sponsoring the measure in the Illinois House.
Category: Latest News