Published: Thursday, August 16, 2018 02:25 PM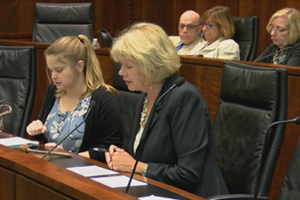 SPRINGFIELD – State Senator Julie Morrison (D-Deerfield) convened the Senate Human Services Committee Tuesday afternoon to seek solutions to the continuing problem of Department of Children and Family Services (DCFS) youth being held longer than medically necessary in psychiatric hospitals across the state.
"Abused or neglected children with mental health conditions should receive the care they need and transition to an outpatient or residential setting as soon as possible," Morrison said. "Languishing in a psychiatric hospital can cause affirmative harm for a child. The state must do a much better job caring for these vulnerable children."
In June, a ProPublica Illinois report analyzed records from the DCFS and found nearly 30 percent of children in the care of the DCFS who were hospitalized were held longer than medically necessary in a psychiatric hospital. The report found of these children, 15 percent had to wait two months or longer.
Morrison first brought attention to the issue in 2015, when she filed Senate Resolution 140 seeking an audit to determine just how pervasive the issue of longer than necessary psychiatric stays. At the time, the DCFS did not track and could not provide information requested in Morrison's resolution.
Last August, Morrison passed a law requiring the DCFS to prepare and submit annual reports to the General Assembly regarding youth in care waiting for placements. The first report is due this December.
"As children get older, every year counts so much when it comes to finding placements for them," said Danielle Gomez, Supervising Attorney at the Office of the Cook County Public Guardian. "If you have wasted a year of a child's life, it's not only horrible for them but it makes it that much harder to heal them and get them placed in the future."
Category: Latest News