Published: Thursday, May 10, 2018 03:37 PM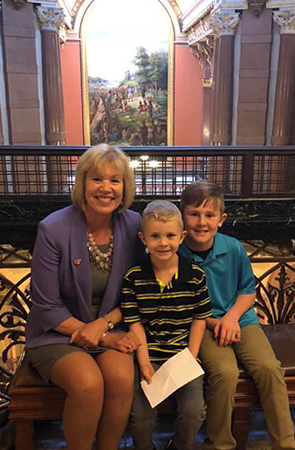 SPRINGFIELD – Insurance companies would be required to cover prescribed hearing aids for minors in Illinois under a plan advanced yesterday afternoon by State Senator Julie Morrison (D-Deerfield).
"When a child cannot hear properly, a host of problems can arise, including falling behind in school and behavioral challenges," Morrison said. "Hearing aids are medically necessary for children to successfully go to school and grow. We must ensure they are available to all children who need them."
House Bill 4516 would require insurers in Illinois to cover prescribed hearing aids to minors as well as cover related services and repairs when necessary. While the number of children in Illinois who need hearing aids is relatively small at under 5,000, the nature of children's hearing disabilities is usually different from adults and requires different kinds of hearing aids.
Morrison was joined yesterday in the Senate Insurance Committee by two brothers who both suffer from bilateral sensorineural hearing loss and testified about the importance of hearing aids in their daily life.
"I was three months old when I first got my hearing aids," 10-year old Hunter Martin said. "If I have to go to school without them, I feel like the volume on the school is turned down all the way. I get upset when I have to keep asking people to repeat what they are saying. I feel like I am bothering them. And I feel left out when I don't hear what other kids hear."
House Bill 4516 passed the Senate Insurance Committee yesterday afternoon without opposition and will head to the Senate floor for further debate.
Category: Latest News