Published: Friday, August 04, 2017 01:52 PM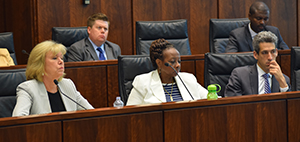 With continued high-profile failures at the Department of Children and Family Services (DCFS), State Senator Julie Morrison (D – Deerfield) is continuing her efforts to reform the troubled agency that is tasked with protecting neglected and abused Illinois children.
"When our system fails a child, it is a reflection on all of us," Morrison said. "Simply blaming DCFS for their failures will not enact the change this agency so desperately needs. We will use what we learn to make sure we have not just policies but practices that ensure DCFS will protect children in Illinois."
Morrison held a hearing recently that focused on 17-month-old Semaj Crosby, who was found dead in late April in her Joliet-area home. The death of Semaj uncovered a host of failures and questionable practices at DCFS, including reports of an incentive program for case workers who closed the most cases in a month.
Acting Director Beverly Walker, as well as a host of high-level DCFS staff, testified at the hearing regarding the Semaj Crosby investigation and corresponding 22-page report released by the agency after Semaj's death.
"We need change, and I'm calling for immediate reforms for the frontline workers who interact with and investigate these at-risk children. And I also am urging all my colleagues in the General Assembly to join in the work of reforming this agency," Morrison said. "We need monumental change. That means we must work together."
Morrison, who is chairwoman of the Senate Human Services Committee, has been working since first being elected on a number of initiatives that would help turn around the troubled agency. She has worked to decrease temporary placements, address abuse and assaults at residential treatment centers, and increase the role of the court system in keeping children safe.
Category: Latest News