Published: Monday, May 08, 2017 03:15 PM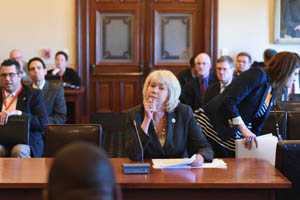 SPRINGFIELD – State Senator Julie Morrison (D – Deerfield) announced a series of summer hearings today in response to continued high-profile failures at the Department of Children and Family Services (DCFS).
"Recent reports of another child abuse investigation that ended in tragedy highlight that there is something terribly wrong going on in an agency whose sole mission is to protect kids," Morrison said. "These hearings are not meant to place blame on any one person. But it is imperative we work to find out where this agency is failing. If we don't look, we will never see."
Morrison, who is chairwoman of the Senate Human Services Committee, has been working since first being elected on a number of initiatives that would help turn around the troubled agency. She has worked to decrease temporary placements, address abuse and assaults at residential treatment centers, and increase the role of the court system in keeping children safe.
"We owe it to all of the children who rely on the DCFS to keep them safe and are too often failed by the system," Morrison said.
Category: Latest News