Published: Tuesday, May 02, 2017 06:16 PM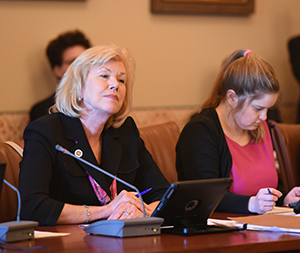 SPRINGFIELD – For children under the care of the Department of Children and Family Services (DCFS), finding an environment where minors are safe and protected is of the upmost importance.
Several reports have highlighted shortcomings at the state agency, however, in ensuring abused or neglected children are placed in appropriate living situations in a timely fashion. State Senator Julie Morrison (D – Deerfield) is working with child care advocates on two proposals that would increase the court system's role in preventing children from languishing in temporary or inadequate settings.
"Abused children require stable environments to resume any sense of normalcy to their lives," Morrison said. "When temporary placements turn into long-term living situations, children cannot get the kind of treatment they need, making it even harder to recover from their abuse or neglect."
Morrison passed House Bill 1791 out of the Human Services Committee this afternoon that would give the court system a say in a child's placement. Under the plan, courts would have the authority to order the DCFS to provide a specific placement for a minor that fits in with recommendations made by the DCFS or a clinician.
"When a court removes a child from his or her parents because of abuse and neglect, all the parties - including the court - share responsibility for ensuring the child's safety and well-being," said Supervising Attorney at the Office of the Cook County Public Guardian Danielle Gomez. "Allowing children to languish in unnecessarily restrictive or inappropriate placements causes them irreparable harm by delaying needed treatment, placing their education on hold and compromising their faith in human relationships. Both HB1791 and SB931 will provide the courts with additional tools to ensure the needs of youth in care are met. The Cook County Public Guardian appreciates the work of the General Assembly to improve the quality of life for our youth in state care."
Last week, Morrison passed a complementary bill that would require the DCFS to keep an open line of communication with the courts regarding children's placements. Senate Bill 931 would require the DCFS to notify the courts whenever a child remains in a shelter placement for more than 30 days, in a psychiatric hospital beyond medical necessity or in a detention center facility simply because the agency cannot find an appropriate placement.
Senate Bill 931 passed the Illinois Senate without opposition and is awaiting a vote in the Illinois House.
Category: Latest News