Published: Tuesday, October 25, 2016 03:45 PM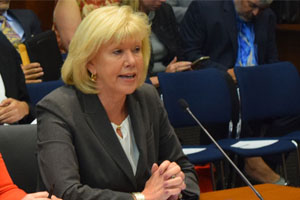 CHICAGO – After a series of high-profile media reports highlighted failures within the Department of Children and Family Services (DCFS) to protect abused children, State Senator Julie Morrison (D – Deerfield) passed a law reforming the troubled agency.
Part of Morrison's efforts included an audit of DCFS to ensure children in the agency's care do not remain in psychiatric hospitals, emergency shelters or detention centers for longer periods of time than necessary.
The findings of the audit, which were released in September and were the subject of a Human Services Committee hearing today in Chicago, found DCFS did not track and could not provide the majority of the data requested.
"For too long, DCFS operated with antiquated technologies and insufficient oversight that allowed some of our most troubled youth to slip through the cracks," Morrison said. "While there has been progress made on a number of fronts, there is still much work to be done to ensure that no child who has been abused or neglected gets left behind by the state."
Since the audit, DCFS has updated several of its computer systems and has plans to upgrade others in the coming months, allowing the agency to provide accurate and up to date figures on how many children have been placed in emergency shelters, psychiatric hospitals and other facilities and how long they have remained in those centers.
"The audit that really prompted this hearing focused on the need for data," said George Sheldon, Director of DCFS. "We do have basic data on these categories of young people, although some of it is in a 36-year old computer software program, which is archaic and needs to be altered."
The entire DCFS audit may be read here: http://www.auditor.illinois.gov/recent-audits-09-08-16.asp.
Category: Latest News