Published: Friday, June 24, 2016 11:31 AM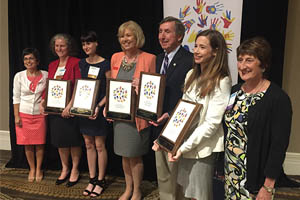 State Senator Julie Morrison (D – Deerfield) was honored recently with the Bud Cramer Advocacy Award from the National Children's Alliance, a national association for the nearly 800 Children's Advocacy Centers across the United States that serve as a voice for abused children.
"I am humbled to receive an award from such a distinguished organization dedicated to protecting and advocating on behalf of abused children across the country," Morrison said. "The work done at Children's Advocacy Centers is vital for every child that has suffered the horrors of being abused."
Children's Advocacy Centers bring together law enforcement officers, child protection organizations, prosecutors, mental health professionals and medical and victim advocacy organizations to investigate child abuse, help children recover and hold offenders accountable.
Morrison was honored for her work to move "the field forward through vision, leadership and the ability to reach and motivate great numbers of people."
Category: Latest News