Published: 28 August 2019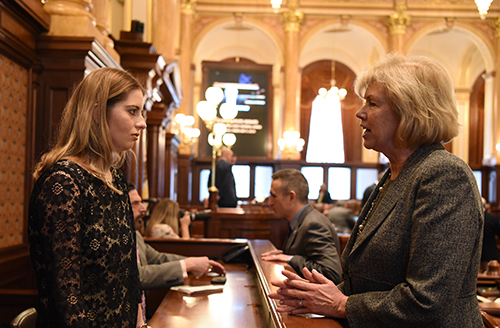 SPRINGFIELD – A package of proposals passed by State Senator Julie Morrison (D-Deerfield) reforming the troubled Department of Children & Family Services (DCFS) agency was signed into law recently by Gov. Pritzker.
One of the most sweeping proposals signed is Senate Bill 1778, a proposal Morrison worked with advocates and fellow lawmakers on for years to update the confusing set of state rules governing reporting of child abuse in Illinois.
"The first step in addressing potential child abuse is the reporting of that behavior," Morrison said. "If the abuse is not being reported – or if individuals don't know the signs of abuse or who to even report to – the entire system is in jeopardy of not working, leaving abused children in dangerous situations."
Also signed recently by the governor include:
Senate Bill 193, which mandates DCFS to review a random 5 percent of abuse claims that were "unfounded" to ensure the agency isn't missing key signs of abuse or neglect;
Senate Bill 1239, which requires DCFS to immediately refer reports of abuse of a child by an individual who is not in the child's family to the appropriate local law enforcement agency; and
House Bill 1551, which requires DCFS to accept a report of child abuse as a child welfare services referral when there is a prior indicated report of abuse and a prior open service case.
Morrison – who is Chair of the Senate Human Services Committee and co-founder of the Children's Health Caucus – has vowed to continue working with colleagues on both sides of the aisle and from both the Senate and House in the coming weeks and months to ensure DCFS never fails a child again.
"Ensuring the systems put in place to protect children are actually working must continue to be our number one priority as lawmakers," Morrison said.
Senate Bill 193 takes effect immediately. Senate Bills 1239 and 1778, as well as House Bill 1551, take effect on Jan. 1, 2020.
Category: Latest News