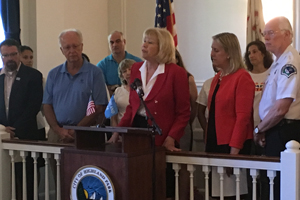 HIGHLAND PARK – Gun safety advocates and local and state public officials joined State Senator Julie Morrison (D – Deerfield) this morning at a press conference in Highland Park in support of Senate Bill 2130, a proposal introduced by Morrison that would give Illinois municipalities the ability to ban assault weapons and high-capacity magazines.
"My plan would give control to local communities who don't think assault weapons have any place in their neighborhoods," Morrison said. "It is entirely permissive and puts the power in local hands. At a time of continued inaction in Washington and Springfield, we must give local communities who want to protect their neighborhoods the ability to do so."
Current Illinois law prohibits municipalities from enacting assault weapon bans. The practice was legal until 2013, when the controversial law allowing Illinois residents to carry concealed weapons was passed.
Highland Park was one community that enacted an assault weapons ban before the state prohibition went into effect.
"When Highland Park's ban on assault weapons was upheld by the U.S. Supreme Court, I contacted Senator Morrison, urging her to draft legislation to allow all Illinois municipalities the opportunity to take action. Senate Bill 2130 provides all Illinois cities and villages the opportunity to reduce gun violence and protect their communities from mass violence and grief," said Highland Park Mayor Nancy Rotering.
A coalition of gun safety advocates, including the Illinois Council Against Handgun Violence, People for a Safer Society and Moms Together, joined Morrison today in support of her proposal.
"Military style weapons have no use on our streets and cities across Illinois. These weapons of war are not designed for sport - they are designed to kill humans quickly and efficiently," said Mark Walsh with the Illinois Council Against Handgun Violence.
Morrison's plan, contained in Senate Bill 2130, will be heard in a Senate subcommittee in late August. Morrison has started a petition for residents in support of Senate Bill 2130 that can be filled by clicking here.
Category: Latest News