Published: Monday, July 19, 2021 02:39 PM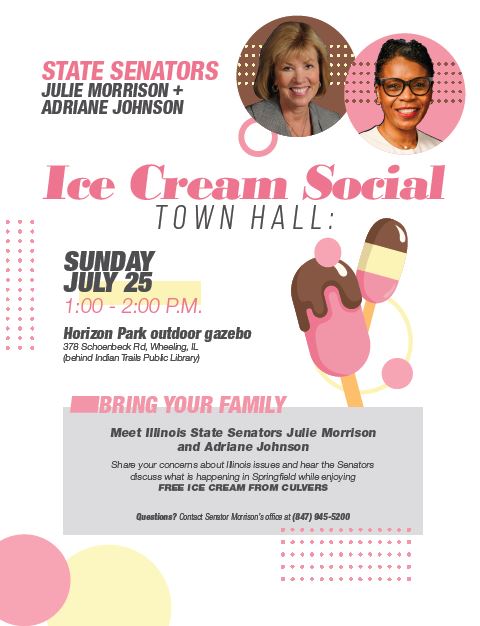 LAKE COUNTY, Ill. – To provide a fun way for the community to beat the heat while learning about what's going on in Springfield, State Senators Julie Morrison and Adriane Johnson are hosting an ice cream social Sunday, July 25.
"One of my favorite parts of my job as a state senator has always been meeting people in the community and sharing the strides we made in Springfield while hearing their feedback," said Morrison (D-Lake Forest). "After more than a year of not being able to host face-to-face events, I'm excited to get back out into Lake County and talk with the people who make the district such a great place to live."
Community members are invited to visit the outdoor gazebo at Horizon Park, located at 378 Schoenbeck Road in Wheeling, from 1-2p.m. on July 25. Senators Morrison and Johnson will provide free ice cream, discuss the successes of the spring legislative session, and answer questions from attendees.
The event is free and open to the public, and all ages are welcome.
"In light of the challenges of the past year, I'm looking forward to spending time out in the community and getting to know our neighbors," Johnson said. "My first spring legislative session was a busy one, and I can't wait to discuss all the important things we've been working on."
Anyone with questions can call Senator Morrison's office at 847-945-5200 or Senator Johnson's office at 847-672-6201.
Category: Uncategorised