Published: Friday, September 04, 2020 09:30 AM
PROSPECT HEIGHTS – To help address the widespread blood shortage that continues during this time of abundant need, State Senator Julie Morrison and State Representative Jonathon Carroll will host a blood drive Sept. 15.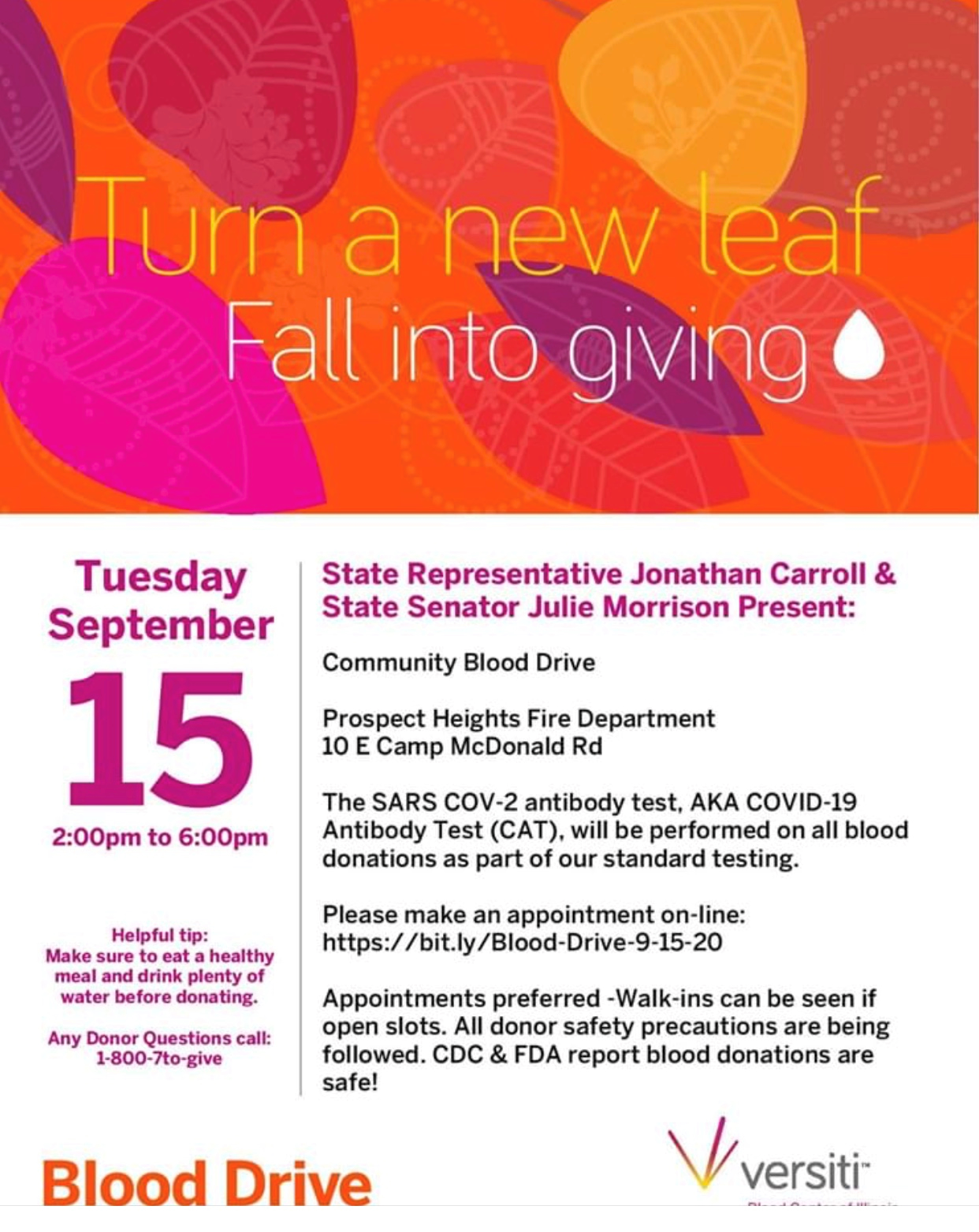 "Blood donations have been critically low during a time when they are needed more than ever," Morrison (D-Lake Forest) said. "If you are able, I encourage you to donate – it could save a life."
The blood drive, in partnership with Versiti, will be held Sept. 15 from 2 p.m. until 6 p.m. at Prospect Heights fire protection building, located at 10 E. Camp McDonald Road. All successful blood donations will be tested for COVID-19 antibodies. Researchers said blood containing these antibodies can treat people with severe COVID-19 by boosting their ability to fight the virus.
The Centers for Disease Control and Prevention estimates about 17.2 million units of blood are used in transfusions every year for accident victims, cancer patients, hemophiliacs, surgery patients and more. In March, the CDC issued a statement encouraging healthy people to donate blood at blood centers that adhere to public health and safety guidelines.
"Now more than ever we need to be good neighbors to each other," Carroll (D-Northbrook) said. "This is an excellent opportunity for all of us to do our part and make sure we have a good supply of blood."
To schedule a blood donation, people can visit bit.ly/blood-drive-9-15-20. Appointments are preferred, but walk-ins can be seen if slots are open.
To ensure the safety of all staff and donors, masks will be required. The group also encourages donors to eat a healthy meal and drink plenty of water before donating.
Category: Latest