DEERFIELD —The 2020 election is less than six months away, leaving people across the state worried it might not be safe to head to the ballot box. Under a proposal spearheaded by State Senator Julie Morrison (D-Lake Forest), every registered voter would be mailed a ballot they could complete from the comfort and safety of their own home.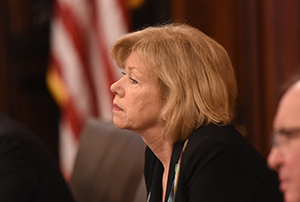 "People should not have to worry about their health and safety when exercising their right to vote," Morrison said. "I want to give voters more accessibility to have their voice heard — especially at a time when so many are relying on their elected officials for help."
The measure will expand Illinois' current vote-by-mail program. Illinoisans would have the option to forego traditional polling places and cast their ballot from the comfort of their home during the November 2020 election. Each registered voter would be mailed a ballot, which would then be returned to the county elections office and counted on Election Day.
This does not preclude in-person voting opportunities on and/or before Election Day.
"According to the governor's five-phase proposal, Illinoisans could still have quite a bit of time before they will be able to safely congregate in large groups," Morrison said. "If people don't feel safe going to gatherings or restaurants, they won't feel safe standing in line to cast their vote."
Morrison has spent the past several weeks speaking with stakeholders, organizations and experts about her proposal. It will be read into the record when lawmakers return to Springfield.
At this time, a date is not set for the return.
Category: Vote-by-mail