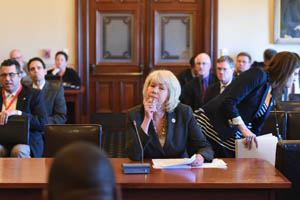 SPRINGFIELD – Tragic events around the country continue to highlight what happens when firearms get in the wrong hands.
In an effort to reduce access to firearms by individuals suffering from mental illness, State Senator Julie Morrison (D – Deerfield) introduced a plan earlier this year that was signed today by the governor.
"We are suffering from an epidemic of gun violence in this country," Morrison said. "Every day, we hear of more death and suffering because individuals who shouldn't have easy access to guns have no problem obtaining firearms."
Current Illinois law requires circuit court clerks to relay information to the Illinois State Police when a person passes through the court system and is deemed to have a mental disability or is involuntarily committed to a mental institution. The information is used to ensure FOID cards, which are required to legally own a firearm in Illinois, are not administered.
Morrison introduced Senate Bill 2213 earlier this year that requires circuit court clerks report bi-annually if no person has been adjudicated as a person with a mental disability or if no person has been involuntarily admitted. The plan ensures that state police are receiving information from every Illinois county.
"While this new law will protect the general public, it also protects individuals suffering from mental illness from causing themselves harm," Morrison said.
Senate Bill 2213 is the latest effort by Morrison to protect communities from firearm deaths. Morrison has introduced a plan to allow municipalities to ban assault weapons and has started a petition on her website at www.SenatorJulieMorrison.com to drum up support for the plan. A Senate subcommittee is set to hear that proposal in mid-August.
Senate Bill 2213 was signed today by the governor and takes effect immediately.
Category: Latest News